Applying to get a new card?
Did you shed your Credit Score Card? To reclaim your credit card, then you need to see the on-line card ditch dustbin. That which you'll get to locate not only yours but every card which is abandoned or thrown away. The internet shop is backed by expert hackers that give you the best legal cards together with pins that are working. When you read through the post, you will discover the firm better. Now you have to take a look at the services and products it's instore for you.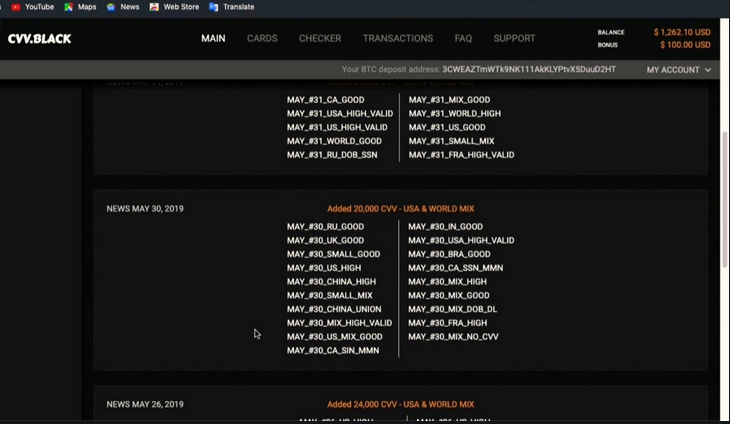 Services and products of online ditch Retailers
Fresh cvv to the lost credit cards
Brand New credit and debit cards
charge cards
Lost charge cards
Legitimate and reputable card
Pins to every single card amount
The way to shop?
Sign up as a client / login
Choose your own card and Find the CVV along
Purchase your order
Confirm payment
Get your card details in your own doors
How to money out a Second-hand charge card?
Obtain a secondhand card
Get the card particulars
Procure the bank info
Have the hacked snare
Obtain out the amount according to need
The aim of card Dump shops
These shops are a Co-joint discussion board made by the business personals and hackers to use the deserted cards. They offer verified and valid cards to not experience issues whilst cashing out the cards. Even the valid cc shop provided with these men and women works and may be relied on. In this manner, the work of card trash-bins made online.
Furthermore
Earning the abandoned Cards offered for the general customers naturally aids in recycling. Hence, the leftover cash from your account gets properly used to get a fantastic cause. This also enables the entire in addition to the initiators of the bins. Even the CVV decoders get paid according to their donation, and also the card collectors have been paid based on the way upgraded they are with lost cards. Obtain your credit card today!